What's New
On Promotional Gifts Guide
Be the first to see the newest content pages on Promotional Gifts Guide.
Discover all the latest and most interesting stories as they happen!
Also, why not also subscribe to our RSS feed, it's really easy to do, just click on the box on the left that says "Subscribe to this site".
To start reading, simply scroll down until a story catches your attention and then click on it's link.
Logo Shirts | Buyers Guide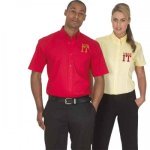 Complete Buyers Guide to Logo Shirts includes - types of shirts, pros and cons, branding options, tips and advice, product suggestions with wholesale prices.