Design Your Own T-Shirt: Tips For Designing Your Own T-Shirt
Learning to design your own t-shirt can be a lot of fun. It allows you to explore your creativity and imagination and it means you can have a fantastic collection of unique t-shirts that you know you will never see anyone else wearing.
While there are no hard and fast rules regarding designing your own t-shirts. There are a few basics that you will want to keep in mind in order that your design looks appealing, and also so that it does not run off or fade away within the first few washes.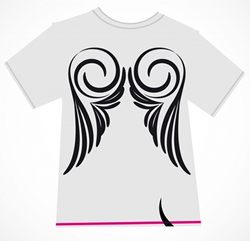 Design Your Own T-Shirt.
What Are A Few Good Design Elements
A good design is one that has clean, crisp lines with a definite contrast. With a sharp contrast the design is clear and others can recognize the pattern from even a few feet away. On the other hand, if you do not have a sharp contrast, the whole design can look blurry and overlapping.
If there is text on your design, it should be easy to read and anybody looking at it should be able to easily identify all of the characters as well as any objects or creatures that are featured in the design.
Special attention should be given to the choice of colours as this has a huge impact on the final result and the visual appeal of the design. For example black text would stand out on a light blue t-shirt or white text would be easily recognizable on a red t-shirt. However, dark green text on a similar coloured t-shirt would just blend together and look unrecognizable.
In addition, there are several other technical considerations that need to be factored in when you want to design your own t-shirt. This is because printing on t-shirts is quite from printing on paper and involves a whole new set of techniques.

Understanding The Different Types
of Materials That Are Used in Making T-Shirts
Most t-shirts are made from pure cotton. Some contain a small percentage of polyester (this is usually to do with a desired material finish such as making a heather grey or a mottled or particular effect). Some also contain elastane, which makes the material more stretchy and is generally used on body fit or more fitted style garments.

There are a various different types of cotton material including:

Ring-spun cotton: In this type of cotton material, the fibres are sent through a spinning process before it is knitted or woven into the fabric for the clothing. This process is generally used to produce a softer and more durable material, ideal for use in t-shirts and other casual clothes such as shirts and even denim clothing. Another benefit is that this material is easier to care for and keeps it shape well.
Combed cotton single Jersey: In this fabric, the yarn is looped irregularly in a jersey stitch. This process results in a fabric that has a flat, smooth face while the back has uniform but more textured finish.
Preshrunk Jersey cotton: Jersey cotton is washed before making the garment. This prevents the garment from shrinking after the first wash.

Each type of cotton fabric is different, and has a different effect. While one type of design or artwork may look good on one particular kind of fabric. It may not go well with another so it is important that you discuss the various options and finishes with the proposed manufacturer or your t-shirt supplier.

Cooltex and similar type 100% polyester materials are also becoming more popular in sports garments. They are designed to improve air flow between material and skin and to help the body's sweat to escape more quickly and easily.
Garments made from these so called 'technical fibre' materials tend to be more expensive than the equivalent cotton t-shirts and would probably be more suited to a lower volume promotion, team uniform or retail garment.

The Comfort Factor Is Most Important
When you want to design your own t-shirt, probably the most important factor to consider is how comfortable the material is to wear, usually the softer and smoother the material, the more comfortable it is. I always advise clients that the best way to find out is to get some samples and test them out for comfort themselves.

Considering Weight of the Material
Material weight this is also important and generally ranges from around 135g - 160g (light to medium weight) to around 185g - 205g (heavyweight), which is the weight of material per square metre of material.
For the budget conscious, short term or once-off promotions, lighter weights are generally the most suitable option. For longer term promotions, workwear or retails/fashion use, the general rule would be go for the heavier weight material and the best you can afford.

Design Your Own T-Shirt.
What Material Colours?
Colour is a very personal choice; however there are a few points to consider to create a perfect design on your t-shirt.

1) The corporate, brand or club colours, material colours should complement the design that will be printed onto the garment.
2) Is the garment aimed at males or females or should it be unisex?
Often promotional garments for low to medium volume promotions, (50 - 1000 units) will be taken from stock and generally tend to be all in one solid colour, mostly white or black.
There are some stock garments available with contrast colour sleeves, panels or trim such as Gamegear Cooltex t-shirts or Fruit of the Loom baseball t-shirts or Ringer t-shirts with contrast trimmed neck and sleeves or cuffs.

Artwork And Designs to
Personalise Your T-Shirts

For corporate and brand promotions and workwear, design will be hugely influenced by the existing corporate logos and branding. Keep the important messages in bold, readable text and bear in mind the background colour.
If you want something to stand use good contrasting colours, for example white on blue (or most dark colours), black on red, yellow, or on most bright/light colours, would be an excellent choice.
Finally if you have any questions on the subject of design your own t-shirt, or need further advice or help, please contact me
Do also take a look at our other pages below on:

Custom Printed T-Shirts Great Exposure For Your Business
Which Custom Embroidered Shirt?

Custom Polo Shirts
Return to Promotional Gifts Homepage from Design Your Own T-shirt