Custom Printed T-Shirts
Great Exposure For Any Business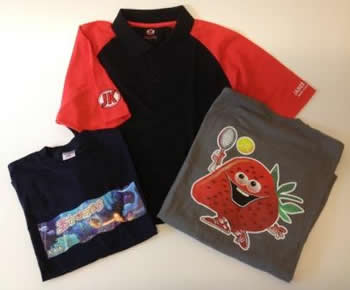 Of all the advertising mediums that you can choose from, custom printed t-shirts are the most effective for anyone looking for maximum results with local marketing.

I've seen many companies that use flyers to advertise their business. They hire teenagers to stand in malls and on street corners to hand out these leaflets to all the people passing by.

The problem with this method is, how many people actually even read those leaflets? Most of us just take it and throw it out in the first bin that we come across.
Now that's a real waste of precious advertising dollars. It's far better to spend a little bit more on something that is more worthwhile, something like custom printed t shirts.
The T Shirt Advantage

Unlike flyers, nobody can really ignore a printed T shirt completely. Especially if the logo or saying that it has printed on it is eye catching. Whenever I see somebody wearing a t shirt with some saying on it, my interest is immediately piqued and I want to know what it says. And I know that most people feel the same way I do.

I've often observed people turning their heads to look around when they pass by somebody who is wearing a customized t shirt. Think about the number of people who will potentially see your logo and your saying in just one day! The effect can be completely amazing.

Just having a person wear your custom printed t shirt for one day has repetitive value. Your company gets promoted every single time it is worn by somebody.

What is important to remember is to keep the wording short, sweet and simple. The print should be large sized, clear and well spaced so that others can read it easily even from a distance.
Small text, placed together too closely does not really catch the eye and will make it difficult for anybody to read it.

Another great feature of using custom printed t shirts is the versatility that it offers. You can get custom printed t-shirts made in a wide variety of materials and there are many designs to choose from so the possibilities are endless.

Custom Printed T-shirts
Material Options

The best material for custom printed t shirts is 100% cotton. This is because most people love wearing cotton t shirts. They are comfortable to wear in any weather, they fall well and look smart and they are also easy to wash.

Other fabric options are blended fabrics that contain a mix of cotton and polyester as well as sandwich fabric, which contains cotton on the inside and polyester on the outside.

When ordering your custom printed t shirts for your company, always ensure that the fabric is compacted and the dye is colour-Fast. Fabric that is compacted will not shrink as much as fabric that isn't. Using colour fast dye ensures that there won't be excessive fading or colour loss.

Design Options
T shirts come in a wide array of designs. Some of the styles to choose from include:

With or without a collar
Round or V neck
Contrasting cuffs and collars
Different colour pockets or slits
Long or short sleeves
With or without hoodies
You can choose any combination of material and design to get uniquely styled t-shirts that will serve as an appropriate advertising medium for your company.

The good news is that we are over 16yrs experience in a wide range of promotional products including all types of promotional clothing. So if you need further advice, help or have a question please do contact us, we'd love to hear from you/
Back to Design Your Own T-Shirt

Return to Promotional Gifts Homepage from Custom Printed T-Shirts