Personalised Coffee Cups
Businesses can use personalised coffee cups in a variety of ways to increase brand awareness and enhance relationships.
With consumption increasing around 12 per cent in the last decade, and the growing café culture in the UK, coffee is fast becoming the new tea. 


Coffee consumption facts
80 per cent of Britain's adult population drink coffee.


70 million cups per day are consumed in the UK.
 
Britons consume 500g per person, per year on average.
Sources: Mintel Coffee UK 2012, British Coffee Association, Real Coffee
Cafes and restaurants
The UK coffee shop market was worth £5.8 billion in 2012, up 7.5% according to research by Allegra Strategies. Build your brand, with personalised coffee cups displaying your name and logo. Branded cups look sleek and professional. Greater name visibility means they'll also make your establishment more memorable. You can use them for giveaways and promotions or even sell them as part of a coffee gift set.


Promotions and giveaways
If you're looking for logo gifts for a giveaway, tradeshow, or event - coffee mugs will give you more for your money. We consume 4-5 hot drinks per day, and 87 per cent of people keep promotional gifts for a year or more - that's great exposure. According to 2011 research by the BPMA, promotional coffee mugs generate the best ROI - they are relatively inexpensive, used frequently and kept the longest.


Corporate gifts
Personalised coffee cups make great Christmas gifts for clients, associates and employees. Choose to include your name, logo and even a seasonal message. Some wholesalers will offer printing of the individual recipient's name for a truly unique corporate gift. Available in a wide variety of styles, colours and designs to suit your brand.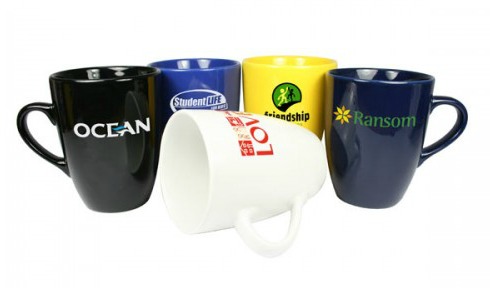 How do you like yours?
We have a full range of personalised coffee cups for your business. Unless specified, every item listed here includes one colour printing on the exterior. You have the option of one or multi-spot colour printing (Pantone PMS colours), photo-printing and to include an additional message on the interior.


Budget
Our coffee cups start from £1.26 per unit. The Essentials Collection includes earthenware mugs in 6 different designs including tall slim Lincoln mug, rounded base Bell, clean-cut Sparta, stylish Newbury and the large handled Cambridge mug.
Americano
Our Milan collection available in black or midnight blue makes an Americano coffee look darker, richer, and more delectable. The earthenware cup contains 255ml and is priced from £2.55. Our larger Quadra mug design at 390ml, also gives you the option of a gloss or matt finish from £2.69.
If you fancy a mug for coffee on the move, why not try our Americano plastic  thermal mug from only £2.59 or the earthenware Takeaway style mug with a silicone lid from £4.85.
Latte
Our 340ml budget latte cup is made from earthenware and includes full colour photo printing from just £4.11.Go Grande with our stylish 480ml large latte mug, available in white, black or dark blue, from £4.40. 
Espresso
We offer a luxury bone china espresso cup with a contemporary straight-sided design. It measures 63x65mm and makes the perfect demitasse with a capacity of 148ml, from £4.55.
Cappuccino
Choose the Durham, a basic white earthenware cappuccino cup which holds 185ml from just £2.49. Our 200ml ColourCoat cup is available in any pantone colour, with a gloss or matt finish from £2.99.   For something more striking, our Classic Ceramic 330ml has a chunky round design, with detail on the handle from £3.42.
Tall
At 139mm high and 68mm wide, our Cylinder Coffee Mug holds 397ml - perfect for those who like extra foam, priced from just £5.35.
Thermal
We have a range of thermal mugs, including an attractive stainless steel mug with sip cover priced from just £2.45. Our best-selling Americano Grande is made from double-walled polypropylene in a myriad of different colours from £3.20.


Luxury
We offer the contemporary Nuvo Mug 340ml, a distinctive design wider at the rim, priced from £4.22. Our Hug Mug is a unique rounded shape made from the finest bone china, it holds 450ml with nice big handle from £4.99.
Magic
Our Wow Latte Mugs have a heat reveal coating which magically disappears to display your message, available small 340ml from £7.24, and large 473ml from £8.13.
Return to Promotional Gifts Homepage from Personalised Coffee Cups