BIC Promotional Pens
Known for their design, quality and precision, BIC promotional pens are the perfect product to attach your business name to. BIC is a loved and respected global brand, established over 60 years.


The pen pioneers
BIC's innovative writing tip and ergonomic design shifted the worldwide market from fountain pens to ballpoints in the 1950s. The company invested in pioneering Swiss technology, developing a 1mm stainless steel sphere which allowed ink to flow freely. Once they found the right ink viscosity which didn't leak or clog, they were granted a license to market their renowned Cristal pen by Biro.

Over the years, the Cristal has not changed much; it has a slim hexagonal shaped barrel made from clear polystyrene. The shape was designed to mimic a wooden pencil, and is translucent so you can see the ink levels. There are holes in the barrel to equalise pressure and prevent leakage, the hole in the cap is to minimise the risk of accidental inhalation.



8 Things you didn't know about BIC




The inexpensive ballpoint was developed in 1949, by Societe Bic of Clichy, Hauts-de-Seine, France.


The name BIC is a shortened version of founding father Marcel Bich's surname.


Each BIC ballpoint pen can produce between 2 and 3km (up to 2 miles) of writing.


It is the best-selling pen in the world - with 57 sold every second.


The 'humble masterpiece' is exhibited at the Museum of Modern Art in New York.


BIC launched an affordable range of French perfumes in 1988, manufacturing ceased in 1991, apart from in Iran where it's still made today.


The company acquired the Sheaffer Pen Corporation in 1997.


The 100 billionth BIC pen was sold in September 2006.


Branded BIC pens
The original Cristal does not make the ideal BIC promotional pen because it was designed as a cheap disposable. The hexagon barrel is unsuitable for personalisation and the clear plastic means the print won't stand out very well.

To use promo pens effectively, your gift should have a high perceived value so recipients like and use it for long periods of time. We offer the following BIC promotional pens, chosen especially for the branded merchandise market:


Ecolutions Media Clic Ballpen 

BIC Ecolutions is a range of eco-friendly products, designed for maximum use, with minimal environmental impact, approved by NF Environment. This retractable ballpoint pen is made from 39% recycled materials. It has a white barrel, with a choice of over 20 clip colours. Prices start from 25p per item, inclusive of one-colour printing.






Ecolutions Widebody Digital Ballpen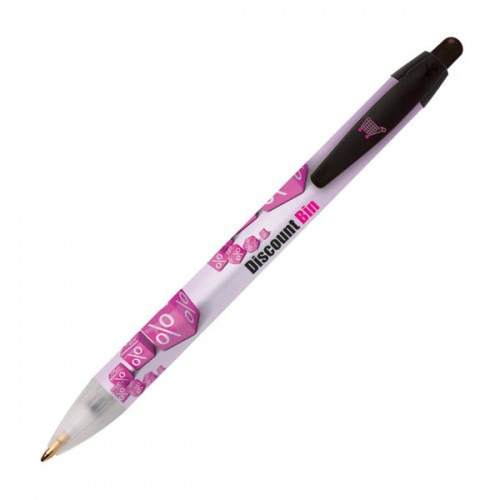 This Ecolutions pen has a wider barrel, shorter clip and rounded pusher. It is priced at around 65p, which includes digital printing in full colour all around the barrel. 






BIC Grip Rollerpen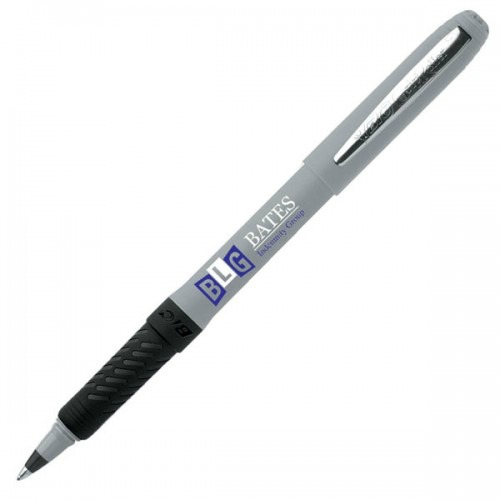 This stylish rollerball has a rounded barrel and an ergonomic rubber grip giving it a contemporary look. It is available in a choice of 6 colours, with a luxury chrome clip engraved with the BIC hallmark. Priced from 57p including 1 colour print on the barrel, it is a luxury BIC promotional pen, at an affordable cost.






Cheap promo pens
With the ground-breaking invention of the disposable ballpoint, the name BIC has become synonymous with cheap pens.  If you're looking for cost-effective BIC-style promotional pen, here are some other items which may be of interest to you:


Contour ballpen
One of our best selling and lowest priced promo pens. In a wide range of colour choices with either silver, white, translucent or frosted barrel and chrome silver trim. Available from just 25p, including one colour print.


Espace Twist Ballpen
A popular twist-action pen with a good print area on barrel and clip.  Choose from either solid colour barrel and clip or frosted colours with satin silver metal nosecone, from 32p each.


Senator Dart Ballpen
Another global brand, renowned for high-quality writing instruments, precision made in Germany. This push button ball pen, is available in wide choice of shades with a sleek gloss finish from 22p.


Note:all prices exclude VAT and are subject to minimum order quantities.


Return to Promotional Gifts Homepage from BIC Promotional Pens