Printing On Mugs
An Interesting Idea For Promotional Items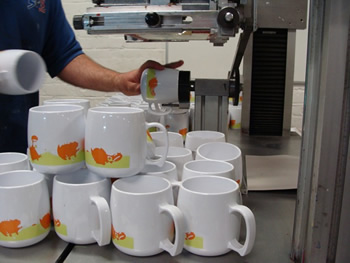 Printing on mugs truly allows you to explore your creativity and come up with a design that is unique and customized to suit your brand.
For anybody that is planning on buying plain mugs and printing their own design on them to give away as corporate gifts, I'd say you are really on to a good thing.

When you create your own design to print on a mug, you can be sure your mugs will be one of a kind unlike readymade mugs that are likely to have common designs.

I think custom mugs make for an excellent corporate gift. No matter how many mugs a person may own, they can always do with another one. Mugs break and need to be replaced and having an extra mug handy when you need it can be quite a relief.
So go ahead and don't think twice if you are considering printing on mugs to give away.

Understanding The Different Processes
Of Printing On Mugs

While on the topic of printing on mugs, I thought it would be interesting to see how it is actually done. There are several different processes that can be used, each of which has different effects.
Knowing a little bit about the process and the pros and cons associated with each of them can help you understand the options available to you so you can make the best decision.

Transfer Printing

Also called decal printing, this is the oldest process that has been used since ancient times for printing on ceramics. Till today, most ceramics that we use in our homes are printed using this particular process.

In transfer printing, high quality artwork is first printed using special ink on specialized papers known as decals. When it is completed, the decals are then pasted on to the mug and the mug is baked at high temperature inside a kiln. The high heat permanently transfers the artwork on to the coffee mug.

While this process offers up the most vibrant and colourful results and is an economical way to print on mugs, it does call for a factory set up and usually requires you to place a large order.

Pros of transfer printing:
Most economical process for printing full colour mugs
Quickest and most convenient method for printing tens of thousands of mugs
Results in vibrant artwork that is permanent and will not fade with time or even after several washes


Cons of transfer printing:
Requires a larger quantity to be ordered
The delivery takes longer than other processes
Initial set up costs can be quite high

Sublimation Printing
Sublimation printing is the process to use if you are looking for a smaller quantity of mugs to be printed and you want different photographs on each of them.

The process is almost the same as transfer printing in that a paper sticker is first created and pasted on to the mug and heat is then applied to it.
The heat helps transfer the artwork onto the mug. However, unlike transfer printing, this process does not require any elaborate factory set up. It can be done out of any smaller space or even in the garage.

What you will need though is a sublimation system, which will include a special paper for printing the artwork, a heat press machine for transferring the artwork and an inkjet printer. The mugs used for this process are regular ceramic mugs that have a special coating that can accept the transfer perfectly.

Pros of sublimation printing:
You can easily and quickly get even a single mug printed any time
Printing time is quick
No duplication. Every mug can feature different artwork

Cons of sublimation printing:
It is an expensive process. Sublimation printing can cost about 3 to 5 times more than transfer printing
The artwork is not permanent and tends to fade away with washing over a period of time. How long it does last will depend upon the quality of the different materials used – the ink, transfer paper, coffee mug- as well as the skills of the individuals and the quality of the artwork.


Pad Printing
Pad printing is a relatively rarely used process and is sometimes also referred to as Printing through a Round Printing Machine.
Pad printing is somewhat like screen printing, where the machines are set up so as to be able to print on a curved surface and the printing can be done in 1 colour or up to a maximum of 3 colours. The main difference between this process and the previous two processes is that there is no heat applied in order to transfer the artwork.

Pros of Pad Printing

Easy to print on curved surface without any heat application

Cons of Pad printing
The printing can only be done in a maximum of 3 colours so you cannot use it if you want to transfer a colour photo image or any artwork that has shading in more than 3 colours
There you have it- 3 different processes that you can use for printing on mugs. There's no doubt that custom mugs of all types are an inexpensive yet effective way to increase sales and if you are considering giving away mugs to promote your business, knowing your options for customizing them can truly help you make a better decision.
If you still have further questions or would simply like to ask a question please contact me.
Return to Promotional Gifts Homepage from Printing on Mugs