Personalised Wine Glasses

Personalised wine glasses make great corporate gifts for clients, associates, suppliers and employees. Symbolic of sophistication and good taste, made extra-special with individual engraving, they are a distinctive and memorable gift.

Used to mark achievements, celebrate milestones, and make merry at Christmas - there's no better business gift than glassware to toast successes. Available in many styles to suit your requirements - from all-purpose wine glasses with your logo printed, to cut crystal goblets individually engraved.

As a nation, we drink nearly 2 billion bottles of wine every year. So you can guarantee your personalised wine glasses will be well-used. Clients are reminded of your thoughtfulness, and employees of your appreciation, every time they pour a glass - making an effective and fruitful corporate gift.



Stemware styles

Different shaped stemware is used to accentuate the unique characteristics of different wine varieties. If you want to buy a personalised wine glass based on the recipient's preferences, or intend to give away a bottle with your gift, it's important to know the distinguishing features. Here's how to select a particular glass by wine type.



Red wine - glasses have a rounder, wider bowl, to increase the rate of oxidation (a chemical reaction that occurs when the wine is exposed to air which alters the flavour and bouquet).  A Bordeaux glass is used for full-bodied reds, it's taller with a very large bowl designed to direct the wine to the back of the mouth.


White wine - glasses tend to have a smaller mouth, this reduces the surface area and thus the level of oxidation to preserve crisp, clean flavours.  However, a wider mouth glass should be used for full-flavoured wines like oaked chardonnay which is ideally served slightly oxidised.


Sparkling wine - should be served in a champagne flute, a long stemmed glass with a tall, narrow bowl on top.  This shape is used to retain the carbonation in the beverage by reducing the surface area at the opening.
Glass or crystal

Choose more economical glass for large-scale promotional business gifts. Select exquisite crystal when you want to make an impression, or mark an occasion. Lead crystal wine glasses are not just highly-prized for their aesthetic qualities. Crystal actually enhances the tasting experience.


Firstly, it has a higher index of refraction, which allows you to fully appreciate the wine's colour. Secondly, on a microscopic level, crystal is rougher than glass, allowing the wine to breathe more when swirled in the bowl.
Personalising your wine glasses

Branded gifts can either be colour printed or engraved with your company name or logo. Or, personalised wine glasses can be etched with the recipient's name. The following glasses from our collection are available for individual personalisation at wholesale prices:



Glass
Our Jasmine glassware has ornate, antique cut detailing on the stem, with a flared lip to deliver the liquid to the sides of the tongue, ideal for mature wines.  Available sandblast engraved from £7.25 as a flute or goblet, minimum order quantity of 24, each supplied individually gift boxed.


Crystal
Choose from our Michael Angelo crystal collection, a contemporary design with a curved lip, and an elegant tapered stem.  We offer a 340ml goblet or a 175ml flute from £7.99 (min order 25). This includes inverted engraving on the side and an individual presentation carton.


Cut Crystal
Our luxury Mayfair crystal range has a traditional diamond cut pattern at the base of the bowl, making a truly beautiful and memorable gift.  Available as a flute or personalised wine glass from £8.60, including sandblast engraving (min order 6).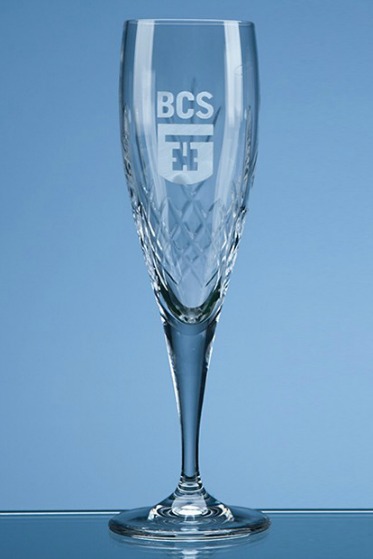 Wine related gifts

If you're interested in wine, we offer many related corporate gifts such as personalised corkscrews, Waiter's Friends (sommelier knives), bottle stoppers and box sets. Alternatively, we have a full range of glassware to suit your needs including high balls, whisky tumblers, and tankards - all with personalisation options.
Back to Personalized Gift Ideas
Return to Promotional Gifts Homepage from Personalised Wine Glasses