Logo Pens
Logo pens are simple, effective and useful, probably one of the most versatile promotional products ever!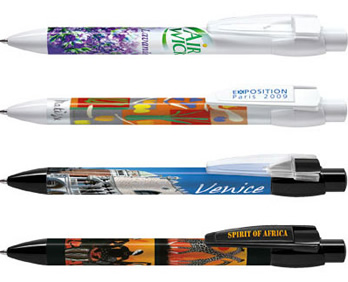 Logo pens are a really great way to promote almost any event, business, charity, individual or product. They are a particularly good item to test the water with if you have not used promotional products before.

They can be low cost and therefore be given out freely and therefore provide a very low cost per impression (CPI) for your advert and brand. Don't be mean when giving away your pens, they are no good staying in the drawer or box in your store, get them out there working for you!
I remember one of my customers once told me, Andrew, my logo pens are great, I still have loads left (this was after about 2 or 3 years). I was shocked and slightly bemused by this.
He had purchased 500 good quality, low cost plastic pens, which was great and I was very pleased that he liked them. I made the point to him that his investment was not working effectively if he didn't get the pens out to his customers and prospects as soon as possible. I think he got the message, shortly afterwards he ordered some more.
A Little Bit Of History
Since we humans existed, it appears that we have been using some form of writing tool for recording events or communicating information. It seems that the ancient Indians were the first to use a pen around 500BC, these were probably made from bird feathers or bamboo.

In his book A History of Writing, Steven Roger Fischer suggests that on the basis of finds at Saqqara, a vast ancient burial ground in Egypt, the reed pen might well have been used for writing on parchment as long ago as the First Dynasty approximately 3000 BC.

From about the 7 century reed pens were gradually replaced by quills. Ballpoint pens were commercially available from 1943. These were manufactured by Biro Pens of Argentina. Erasable ballpoint pens by Papermate, were available from 1979.
Felt tipped pens invented by Yukio Horie of the Tokyo Stationery Company, Japan, were available in the 1960s and rollerball pens were introduced in the early 1970s.

As technology has progressed and inventions such as the typewriter, personal computer, mobile phone, smart phone and tablet, have changed our lives. The pen has not yet been superseded. In fact some of the famous brand name pens, are still very much considered status symbols.

Benefits And Uses of Promotional Pens
Ideal mailing enclosures

– you've probably noticed that many charities include a pen with their mailing (although I have noticed some do not have the pens printed with their logo and message which is certainly a lost opportunity).
One of our government clients uses logo pens with a pull out banner to give guidance to gap year students on travelling abroad safely.
Survey/response incentive gifts – insurance companies and mail order companies often make use of a pen as an incentive to call and get a quote or trial their service. Once the caller has the logo pen, your contact number and website address are always handy. Many of our national health service clients use logo pens to encourage people to respond to surveys or shirt questionnaires.
Reception desk giveaways – pens are often required for registration, why not make the most of the opportunity and let the registrant keep the logo pens. A local business centre always has a good stock of pens on their reception desk. There are always plenty of visitors to the companies renting offices there, who need to sign in at the desk and all are encouraged to take a pen. Many could be great new potential future users of the office space.
School and educational – pens, pencils and highlighter pens make ideal tools for getting the message across to your students.
Service providers – logo pens featuring a phone number and perhaps website address are perfect for maintenance companies, utilities, helpdesks, delivery and transport companies.
Health services – many of our clients use logo pens to give out in local hospitals, specialist clinics and at town centre campaigns for information and services available to them such as heart health, diabetes and cancer awareness. Another area used pens to promote the national 'Change 4 Life' brand as a national upweight.
Conferences and training – almost all of our clients that organise conferences or in-house training will use logo pens along with notepads to promote and reinforce their brand image for the event. Many will even sign up sponsors who will then also have their logo on the pens and notepads.

We worked with one our TV channel clients to create a range of merchandise including logo pens which feature their logo and specific branding for recruitment. These items are used in their regular recruitment events to give to prospective employees.

The Statistics
ASI's (Advertising Specialty Institute) groundbreaking research in 2008 surveyed 618 business people in Los Angeles, Chicago, New York and Philadelphia.

85% of the users remembered the brands on the pens they received

23% said they were more likely to do business with the advertiser on the pens they received.
53% have done business with the advertiser after receiving logo pens.

Writing instruments were the best remembered products with 54% of the panel being able to recall pens they had received.
How long is typical writing instrument kept? 84% said up to 6 months, 12% 6 – 12 months and 8% 12 months or more, so on average they are kept for 4.3 months, what fantastic advertising space.
People keep items that are attractive and useful. 91% said they kept the pens because they were useful and 34% because the pens they received were attractive.
How often do people use a pen? 20% of surveyed recipients said that they use the pen 2 – 5 times a day and another 20% more than 5 times per day. Superb exposure for the brand.
Obviously this could be a few minutes if the pen is use on a notice board or 'to-do list'. Equally, if the user needs to write documents in order to complete that daily tasks or being at a desk all day, this could potentially be 100s of hours.
Just 3 hours use a day for 5 days a week at a minimum 6 months use, means 390 hours of exposure to the brand (for a pen costing 50p, this means 0.0013p per hour to advertise to that user or £1.30 per hour per 1000 users, incredible value for money

How Many And How Much?
Typical minimum orders for printed pens is around 250 – 1000 units for budget pens (20p – around £2.50 each), 100 – 250 units for mid price pens (around £1.00 - £5.00 each) and metal and executive pens 25 – 100 units from around £5.00 - £15.00 and premium (famous) brand name pens such as Cross, Waterman, Sheaffer and Parker, 10 – 25 units from around £25.00 upwards.
This is just a basic guide to give you an idea of the ballpark figures, naturally there are many options which fall between these price points and quantities.
It is always best to talk to your local or regular promotional products distributor to discuss the options, if there is a minimum quantity stated which means going over your budget, don't let it put you off, there is often flexibility to reduce the quantity, although this may result in a higher unit price.
Usually the minimum orders are based on manufacturer's minimum production quantities or to fall in line with their minimum order value, this tends to be around £150 - £250.00 + VAT.

The Conclusion

Logo pens offer a great return on investment. Depending of course on the profit made per unit of your product or service, you may require only a modest response rate to make an excellent return on a relatively small investment.
Like the idea of using promotional pens for an up and coming promotional event? Then please contact us, we have many years of experience and can guide you through the entire process.

Return to Promotional Gifts Homepage from Logo Pens