Embroidered Golf Towels, The Essential, Smart and Handy Cleaning Accessories For Every Golfer
Why Use Golf Towels?
Golf towels are essential items in every golfer's kit. Embroidered golf towels are therefore a perfect opportunity to place a brand name and logo in front of the player as well as to give them a very smart and functional gift which will last for many years. Golfers will typically use the towels for wiping or drying down golf club grips (handles) and heads, balls and other equipment (as well as their hands), should they become wet, dusty or muddy.
Which Material Is The Most Suitable?
Golf towels are naturally intended to be absorbent and therefore usually made from woven cotton terry loop towelling, smooth soft cotton velour or polyester microfibre. They will be fitted with a stitched on material loop in the edge seam (or corner with a non-folded towel) or alternatively a metal or plastic ring or carabiner type hook, to enable them to be hung in a convenient position on the golfer's cart.
Similar to other velours, such as fabric used for clothing, furniture and curtains, the material often has a slightly shiny finish, it also tends to have a shorter fibre than terry towelling, and the same also goes for the microfiber, although fibres can vary greatly in length, often dependant on the softness of the material required. Due to the slightly shiny appearance the velour fabric works well with embroidery, as the thread used often tends to be slightly shiny. Terry loop towelling usually has longer, less dense fibres with a matt finish, it is suitable for print or embroidery. The cheaper towels will be 'thinner' with less loops which don't look so nice so try to go for a good densely woven one, where budget allows. Make sure in any case that you see a sample of the towel you have chosen before confirming your bulk order.
What's The Best Size Golf Towel?
Golf towels are available in a range of standard sizes and formats. A typical flat or unfolded golf towel would be around 500 x 300mm. For a slightly larger option there are double fold towels, an example of which would be the Durham double fold golf towel with pocket which is 580 x 160mm when folded, or the tri-fold (or threefold) towels such as the Oxford tri-fold velour golf towel, size 500 x 130mm when folded (500 x 390mm flat).
If you fancy something a little different, what about the Nike rain hood combo towel. With its' nylon outer and soft cotton lining provides a great waterproof cover for the top of the golf bag and clubs as well as making an ideal cleaning cloth. Perhaps also consider the stunning 'Event Checks and Plains' velour golf towels available in 8 stylish combinations of chequered patterns with a plain area for embroidery of your logo.
Whats The Most Effective Way To Personalise My Golf Towels?
Personalisation and branding - For ready made golf towels your logo and designs can either be screen printed or embroidered. If you require from 25 to 250 units and have anything from 1 to 4 weeks available, this will be the most appropriate option. If you need from 300 units and over and have 4 to 6 weeks available you can opt for a completely custom jacquard woven golf towel. This would include your design woven into the actual towel material, a really impressive gift for your clients.
Printing is an acceptable option for the budget conscious promotion, however only really suitable for simple logos, without fine detail or text, in a single print colour. For best effect to be printed in a bold contrasting colour to the towel colour, for example, white on navy blue or black on white material and making a large print across the towel. Some of my clients prefer this option and it suits their artwork however my recommendation would be to go for embroidered golf towels as this gives more flexibility with regards to the design and number of colours used and in my opinion results in a product with a much higher perceived value and more luxurious finish.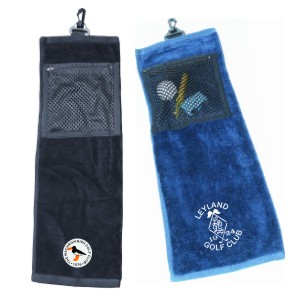 It's All About The Presentation
Although personalised printed and embroidered golf towels can be given as gifts in their own right, I usually recommend that clients combine the towel with other golfing gifts such as ball markers, tees, golf balls and pitch markers, which make a superb gift pack. What about supply them along with the other items in a smart zipped golf shoe bag or goody bag, adding the finishing touch with a leather or plastic bag tag, all personalised with your brand logo and corporate message. These are of course ideal for corporate and club golf days as well as making memorable thank you presents for those keen golfing client's.
I am sure that you'll agree with me that embroidered golf towels make a very practical and useful gift, with a high perceived value, as well as being a product that will be repeatedly used by your clients hundreds, if not thousands of times, whilst enjoying their favourite sport.
Back to Golf Gifts & Promotions
Return to Promotional Gifts homepage from Embroidered Golf Towels